Aquamax KF Plus titrators have been specifically designed for the determination of water content, combining coulometry with the Karl Fischer method. The versatile Aquamax KF Plus is suitable for a wide range of applications and offers many advantages including a tough measuring vessel, a 'press go' keypad and built-in printer.
Features
Simple operation
10 user programmable methods
1 ppm / 100%
Results in ppm, mg/kg, percent (%), and μg water
Multi language display & print out
Small footprint
Integral high speed printer
Integral battery
Fully portable
Low drift cell design
Results Manager software
Automatically compensated errors (patented technique)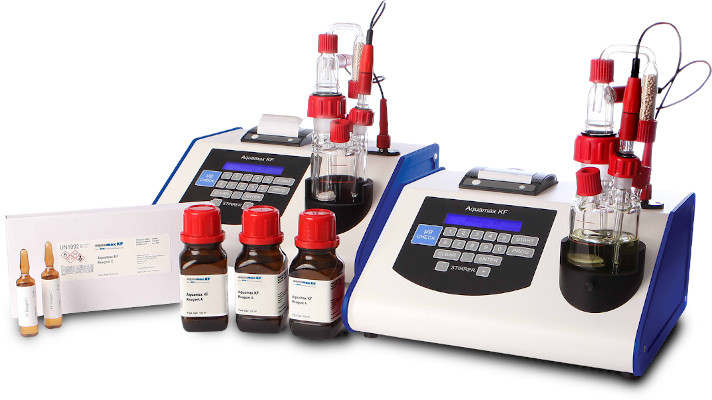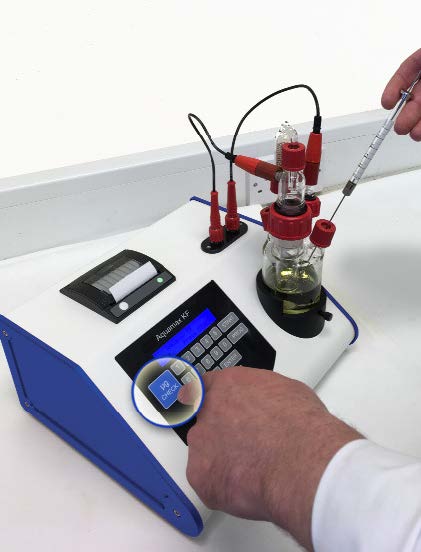 Water Check
The μg check button allows the operator to simply press go, inject 1μl or maybe 10μl of distilled water (as required by some ASTM methods) and verify if the instrument and reagent are working with in their required specification. The μg check overrides the programmed calculation and displays/prints out a report of the verification check. The coulometer then automatically reverts back to the pre-programmed setting.
Tough Measuring Vessel
The unique LDC glassware design is by far the easiest to use and also the most robust. The electrode locking system allows the joints to seal completely, without the use of grease or PTFE sleeves, and provides improved baseline stability. Hassle free assembly and disassembly.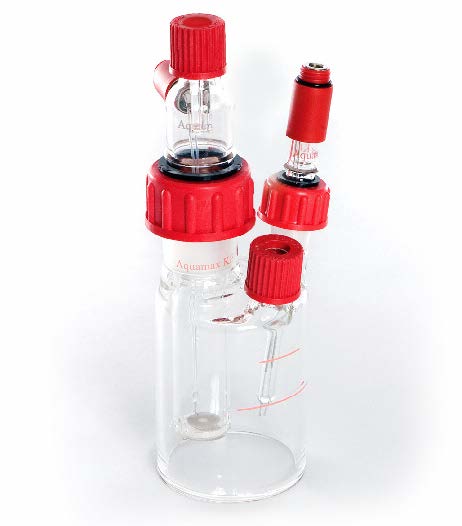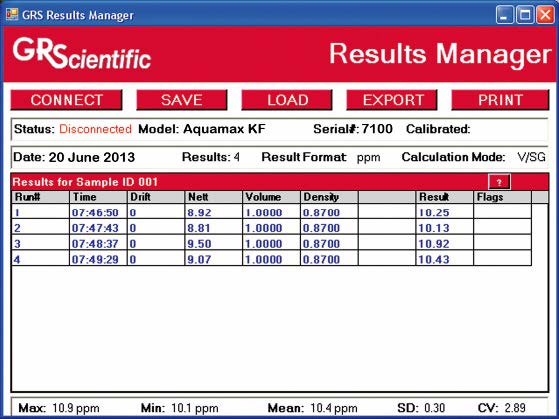 Results Manager
This is a windows application that allows you to view and print sets of results created by the Aquamax KF itrator. It can download results directly from the instrument via a serial port connection, or open result files previously saved to disk. The Results Manager package contains all necessary cables, connections, installation cd and user manual.
For those who need to use the titrator outside of the laboratory, the removable flash drive (memory stick) will store all the results whilst you complete your on-site work. The USB flash drive can then be connected to a pc and results downloaded via Results Manager when returning to your work place.
Certificates
All Aquamax KF Coulometric titrators are supplied with a calibration certificate traceable to national standards.
Titration Method

Coulometric Karl Fischer titration

Electrolysis Control

Patented "ACE" control system GB2370641

End Point Detection

AC polarisation

End Point Indication

Visual display/print out/acoustic beep

Titration Vessel

Low Drift Cell design, no grease or PTFE sleeves required

Measuring range

1 μg – 200 mg water
Typical: 1 μg – 10 mg water

Moisture range

1 ppm – 100% water

Max. sensitivity

0.1 μg

Max. titration speed

2.24 mg per minute

Max. current

400 mA

Drift compensation

Automatically controlled

Precision

10 - 100 μg ± 3 μg
100 μg - 1 mg ± 3 μg
Above 1 mg ± 0.3%

Start delay time

0-30 minutes, user selectable

End delay time

0-30 minutes, user selectable

Calculation modes

Weight/weight, (W/w) (user programmable)
Weight/dilution ratio, (W/K)
Volume/density, (V/SG)
Volume/volume, (V/v)

Display format

μg, mg/kg, ppm, %

Print format

μg, mg/kg, ppm, %

Statistics

Max, mean, min values up to 99 runs

Method storage

10 user programmable methods

Sample ID number

User programmable

Stirrer speed

Microprocessor controlled

Languages

Multi languages – user selectable

Calendar/clock

Analysis time & date print out

Battery low indicator

Display & print out indication

Data outputs

USB and RS232 ports

Removable Data storage

Flash drive (memory stick)

Data Entry

15 key touchpad

Display

40 character alphanumeric backlit LCD

Printer

42 character high speed thermal printer

Power supply

90-264V AC, 47-63 Hz. (includes global adapters)