The OHAUS HT (High Throughput) Lysing Bead Mill Lab Homogenizer offers efficient solutions for grinding, lysing, pulverizing, mixing and homogenizing sample preparations. High-throughput processing is ideal for multiple sample and tube configurations. Easy-to-load tray securely locks microplates, deep well plates or tubes in place. High-speed linear motion processes samples quickly. Maximize sample preparation no matter how difficult the task.
Applications
DNA, RNA and Protein Analysis (from mammalian tissue, plant, soil, seed, fungi, bacteria, virus and other cells), Cell Lysing, PCR, Gene Expression
Display
Easy-to-read LED display allows the operator to view speed and time settings
Operation
Five pre-set program buttons and touchpad controls for speed and time
Communication
N/A
Construction
Polyurethane Elastomer top housing, Cycoloy bottom housing, and Lexan lid
Design Features
Microprocessor-controlled unit includes sample clamp and hex key
For high performance grinding, the HT Lysing Homogenizer is one of the most flexible models on the market. The built-in adjustable holder allows for easy processing of samples - no accessories needed.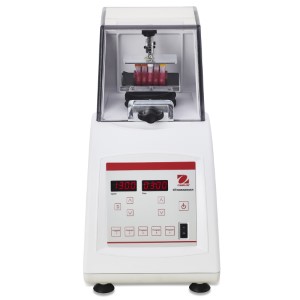 This versatile Homogenizer allows high throughput grinding, and is ideal for processing multiple tubes, microplates, deep-well plates, or any sample container that fits in the 10.2x12.7x6.4 cm holder.
Take the guesswork out of sample preparation. Five preset programs optimized for speed and time to process the most common samples, including bacteria, fungi, plant, and animal tissue easily.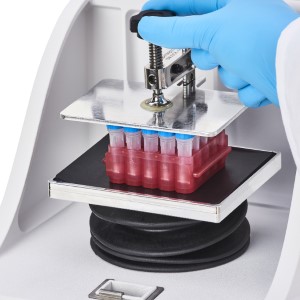 | | |
| --- | --- |
| Speed Range | 300 rpm – 1600 rpm |
| Motion | Vertical, 31 mm |
| Capacity | 1 Deep Well, 4 Microplates or any sample to 10.2 x 12.7 x 6.4 cm |
| Timer | 1 second – 10 minutes |
| Programs | 5 Preset Programs |
| Control | Digital |
| Dimensions | 20.5 in x 17.5 in x 11.5 in (518 mm x 443 mm x 288 mm) (HxLxW) |
| Net Weight | 59 lb (26.8 kg) |
| Power | 120V, 6.3A, 50/60Hz |
| Power Consumption | 450 W |
| Safety Certification | TUV |
| Working Environment | 40°F – 104°F, 20% – 85%RH, non-condensing (5°C – 40°C, 85%RH, non-condensing) |