Dependable OHAUS Light Duty Shakers are designed for applications with loads up to 4 kg. Choose from two orbits and speed ranges to optimize your sample mix. One digital model dedicated for use with microplates, two digital models designed to work with accessories and a non-digital economical unit for everyday shaking. All models feature triple eccentric drive systems for stable shaking with microprocessor-control for reliable shaking action.
Applications
ELISA Assays, Cell Cultures, Immunoassays, Protein Studies, Bacterial and Yeast Cultures, Staining/Destaining, Blotting Techniques, DNA Studies
Display
Easy-to-read, independent LED displays for speed/time allow the operator to view all settings simultaneously (digital models) and basic control knobs with dial markings for speed/time (analog models)
Operation
Detachable 3-wire cord and plug (included)
Communication
N/A
Construction
Cast aluminum
Design Features
Non-slip mat (11.75 x 8.75 inches or 29.9 x 22.2 cm) included with all models except the Microplate Shaker
Designed for flexibility with your applications – OHAUS Light Duty Shakers include the ready-to-use tray and mat, or remove the mat and customize the tray with over 20 easy-to-install accessories.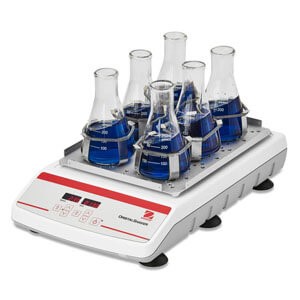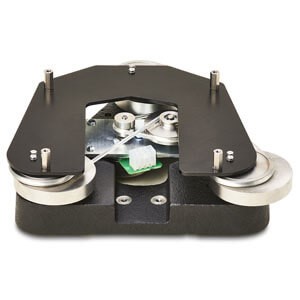 Well-performing economical choice for your everyday laboratory shaking needs. Non-digital model offers reliable shaking across the entire speed range with the robust triple eccentric drive design.
Microplate shaker is designed to securely hold up to four microplates or deepwell plates, or easily install two microtube racks. Units slowly increase speed to desired setpoint to avoid splashing.
| | |
| --- | --- |
| Motion | Orbital, 15 mm |
| Capacity | 3.6 kg |
| Speed Range | 40 rpm – 300 rpm |
| Tray Size (LxW) | 11.75 in x 8.75 in (29.9 cm x 22.2 cm) |
| Control | Digital |
| Drive System | Brushless DC Motor; Triple Eccentric |
| Dimensions | 4.3 in x 16.3 in x 10.3 in (10.8 cm x 41.3 cm x 26 cm) (HxLxW) |
| Net Weight | 24 lb (10.9 kg) |
| Orbit | 0.6 in (15 mm) |
| Power | 120V, 5A, 50/60Hz |
| Power Consumption | 25 W |
| Safety Certification | TUV |
| Speed Accuracy | ±2 rpm, Above 100 rpm ±2% of set speed |
| Speed Range | 40 rpm – 300 rpm |
| Timer | 1 second – 160 hours |
| Tray Construction | Aluminum |
| Working Environment | 14°F – 140°F, 80%RH, non-condensing (-10°C – 60°C, 80%RH, non-condensing) |