OHAUS Rocking and Waving Shakers are innovatively designed for use in a wide range of lab applications. Rocking Shakers provide controlled seesaw-like motion, while Waving Shakers offer a smooth, low-foaming, 3D wave motion. Available in microprocessor-controlled digital models and economical non-digital models. All models include a non-slip mat, and most models are available with a stacking tray option to easily double the capacity.
Applications
Mixing Blood Samples, DNA Extractions, Blotting Techniques, Staining and Destaining Gels, Hybridizations
Display
Easy-to-read, independent LED displays for speed, tilt angle and time allow the operator to view all settings simultaneously (digital models) and basic control knobs with dial markings for speed, tilt angle and time (analog models)
Operation
Detachable 3-wire cord and plug (included)
Communication
N/A
Construction
Cast aluminum housing, non-slip rubber mat (included), stacking tray option (with all models except the analog Waver model)
Design Features
Spill-resistant design, overload protection with audio/visual alarm on digital models and audible alarm on analog models
Electronic control allows simple tilt angle and speed adjustments while the unit is still running to achieve optimal mixing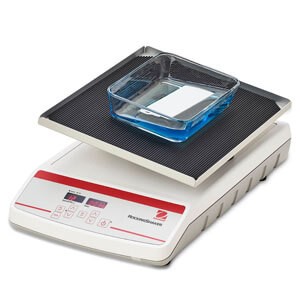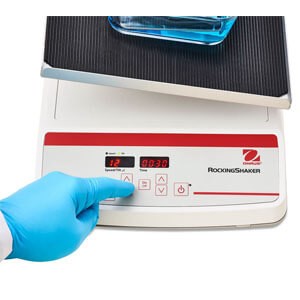 Achieve reproducible results you can trust with digital models. Precisely adjust the tilt angle in 1° increments with variable speed down to 1 rpm with intuitive touchpad controls.
Optimal speed ramping feature slowly increases speed to desired setpoint to avoid splashing. Smooth rocking or waving motion is maintained with state-of- the-art motor and electronics.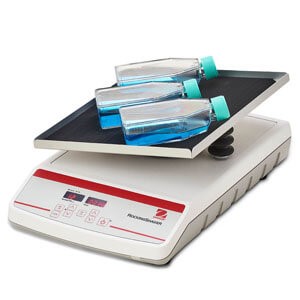 | | |
| --- | --- |
| Motion | Waving, 0 – 16° |
| Capacity | 2.3 kg |
| Speed Range | 1 rpm – 75 rpm |
| Tray Size (LxW) | 14 in x 11 in (35.6 cm x 27.9 cm) |
| Control | Analog |
| Drive System | Stepper Motor |
| Dimensions | 6.5 in x 16.8 in x 11 in (16.5 cm x 42.5 cm x 27.9 cm) (HxLxW) |
| Net Weight | 14.6 lb (6.6 kg) |
| Power | 120V, 0.125A, 50/60Hz |
| Power Consumption | 15 W |
| Safety Certification | TUV |
| Speed Range | 1 rpm – 75 rpm |
| Tilt Angle | 0 – 16° |
| Timer | 1 second – 160 hours |
| Tray Construction | Aluminum |
| Working Environment | 14°F – 140°F, 80%RH, non-condensing (-10°C – 60°C, 80%RH, non-condensing) |