OHAUS Thermal Shakers are designed for heating and cooling applications that require consistent and precise high-speed shaking with dependable temperature control from 17°C below ambient to 100°C. Temperature can be user-calibrated when precision is required. Customize applications with interchangeable blocks to accommodate tubes & microplates. Intuitive touchscreen allows the user to view all steps of the program while monitoring the progress.
Applications
DNA, RNA, Cell Cultures, Hybridizations, Protein Studies
Display
4.3 inch (10.9 cm) color touchscreen Liquid Crystal Display (LCD) which can be programmed in six languages
Operation
Detachable 3-wire cord and plug (included), unit requires a block - compatible with Eppendorf Thermomixer® R blocks
Communication
USB port provides greater flexibility in data collection and transfer
Construction
Valox cool touch housing, removable plastic rack, cover and screwdriver for block removal (included)
Design Features
Hot top indicator, audible alarm, maximum temperature limiting function, temperature priority function, pulse/quick mix mode, temperature calibration mode, temperature ramp rate function
Best in class temperature performance. Enhanced electronics and software allow for fast and accurate temperature control you can trust. Cooling models reach temperatures down to 17°C below ambient.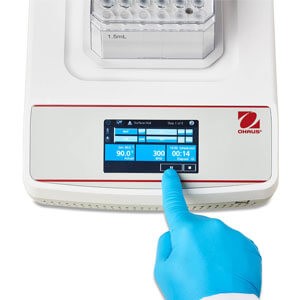 Intuitive touchscreen for simple operation and programming. Set the functions and the comprehensive help screens in one of six languages to guide the user through the operation of the unit.
Easily create programs for repeat applications. Storage for five separate, 5-step programs. The USB port allows the transfer of test data to a flash drive for data logging and program storage.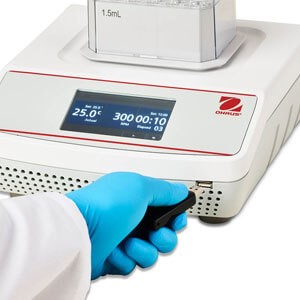 | | |
| --- | --- |
| Motion | Orbital, 3 mm |
| Capacity | 1 Thermal block |
| Temperature Range | 17°C below Ambient – 100°C |
| Speed Range | 300 rpm – 3000 rpm |
| Calibration | Temperature calibration |
| Communication | USB |
| Control | Touch |
| Cooling rate | Above ambient 2-3°C/min |
| Dimensions | 5.4 in x 10.6 in x 10.03 in (137 mm x 269 mm x 262 mm) (HxLxW) |
| Drive System | Brushless DC Motor |
| Heating Rate (/min) | 5°C/min |
| Net Weight | 10.8 lb (4.9 kg) |
| Orbit | 0.1 in (3 mm) |
| Power | 120V, 1.8A, 50/60Hz |
| Power Consumption | 215 W |
| Safety Certification | TUV |
| Speed Accuracy | ±2% |
| Speed Range | 300 rpm – 3000 rpm |
| Temperature accuracy (±) | +/- 0.5°C between 20°C and 45°C; +/-2°C below 20°C and 45°C |
| Timer | 1 second – 99 hours, 59 minutes |
| Working Environment | 41°F – 95°F, 80%RH, non-condensing (5°C – 35°C, 80%RH, non-condensing) |