OHAUS Microplate Vortex Mixers are perfect for mixing microplates throughout the speed range. All models are designed for continuous-duty use in the lab. Digital models offer a timer and exact speed control for applications that demand repeatable results and non-digital variable speed models are an economical alternative. The high-speed and small orbit of these mixers make them optimal for effectively mixing microplates.
Applications
ELISA Assays, PCR Preparations, Digestions, Cell Disruptions
Display
Independent LED displays for speed/time allow the operator to view both settings simultaneously (digital models) and adjustment knob with dial markings for variable speed control (analog models)
Operation
Detachable 3-wire cord and plug (included)
Communication
N/A
Construction
Cycoloy
Design Features
Microplate adapter and cup head (included)
Safe to mix at high speeds - the innovative locking design of the microplate accessories allows these mixers to safely operate throughout the entire speed range.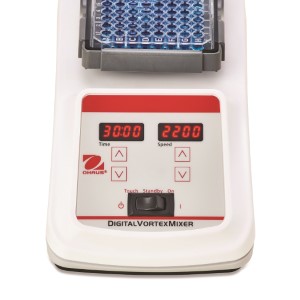 These mixers utilize a high quality German-manufactured motor allowing for reliable, continuous-duty operation at any speed.
Robust digital and non-digital models offer effective speed control from low rpm for gentle shaking to high-speed mixing for vigorous vortexing of samples.