OHAUS Guardian 5000™ Hotplates Stirrers are designed for safety and simplicity in all research, academic and industrial applications. The design ensures proper mixing and temperature control of the top plate or your sample when using the optional temperature probe. Heating models include a Single Point Calibration feature for multiple setpoints. Select from five models with three plate sizes for your everyday heating and stirring applications.
Applications
Boiling Water, Water/Oil Bath Preparation, Sample and Solution Preparation, Dissolving Buffers and Reagents, Preparing Media, Concentrating Samples
Display
Backlit LCD Display for temperature and speed, green indicator lights when unit is heating and stirring, prominent hot top indicator light, probe in use icon, Single Point Calibration icon
Operation
Stirring from 60 to 1600 rpm, Temperature range of ambient +5°C to 500°C (ceramic top) or 380°C (aluminum top), power cord (included), stirring models include a 1.5" (3.8 cm) PTFE coated stir bar
Communication
N/A
Construction
Probe connection, SmartHousing™ stays cool to the touch and is chemical resistant, IP21 Ingress Protection, polycarbonate front panel, control knobs, On/Off switch for heater disconnect, built-in support rod holder, easy to clean ceramic or aluminum tops
Design Features
Hot top indicator light, audible alarm, SafetyHeat™ protection shuts off the heater in the event of a malfunction, temperature calibration feature for 3 probe and 3 plate setpoints
An industry-leading early detection system that uses two independent safety controls to continuously monitor the electronics and shut off heating before an overtemperature condition occurs.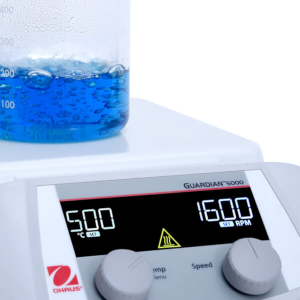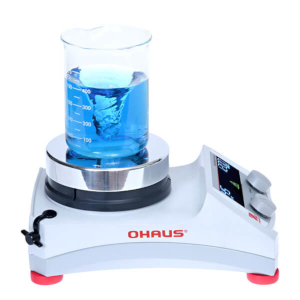 Precise stirring from 60 to 1600 rpm is made possible by the design of a powerful motor, strong magnet and software controlled ramp rate, ensuring secure magnetic coupling for viscous applications.
The bright LCD display includes large temperature and speed settings, intuitive icons and a prominent hot top indicator – all designed to quickly and easily monitor performance from across the lab.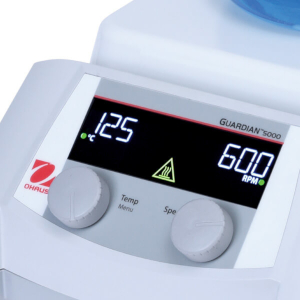 | | |
| --- | --- |
| Speed Range | 60 to 1600 rpm |
| Function | Stirring |
| Capacity | 15 L |
| Plate Construction | Ceramic |
| Plate Size | 7 in x 7 in (178 mm x 178 mm) |
| Calibration | Temperature Calibration 3 Plate/3 Probe |
| Control | Digital |
| Dimensions | 4.8 in x 12.2 in x 8.8 in (122 mm x 309 mm x 223 mm) (HxLxW) |
| Display | Custom Backlit LCD |
| In-use cover | Available as an Accessory |
| Net Weight | 5.7 lb (2.6 kg) |
| Power | 120V, 1.0A, 50/60Hz |
| Power Consumption | 108 W |
| Safety Certification | TUV |
| Speed Stability | +/-2% |
| Temperature probe | Available as an Accessory |
| Temp. Stability | +/-3% Plate, below 100°C +/-2°C and +/-1% Probe, below 100°C +/-1°C |
| Working Environment | 41°F – 104°F, 80%RH, non-condensing (5°C – 40°C, 80%RH, non-condensing) |