Incubating Heavy Duty Orbital Shakers offer exceptional temperature uniformity and are designed for a variety of shaking and incubating applications.
Applications
Cell Cultures, Solubility Studies, Bacterial Suspensions, Extraction Procedures
Display
Independent LED displays for temperature, speed and time
Operation
N/A
Communication
RS232
Construction
Aluminum and Cycoloy
Design Features
Temperature calibration feature, overload protection, overshoot protection (temperature), load sensor, PID temperature controller, Triple Eccentric Drive system
The exclusive Opti-Flow Forced Ventilation System utilizes twin induction or a single large fan. Air is deflected around & not directly on samples, creating a circular flow of air ensuring uniformity.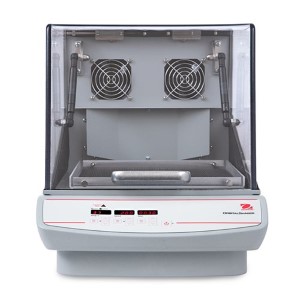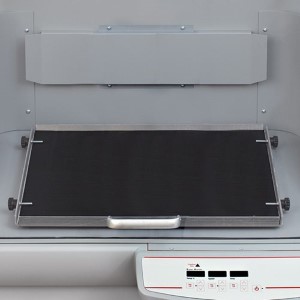 For repeatable results, the exclusive Accu-Drive shaking system ensures speed accuracy. The Triple Eccentric Drive provides consistent shaking motion throughout the entire speed range.
The chambers for the ISHD23HDG and ISHD23CDG units are large enough to hold 2 x 6 L Erlenmeyer flasks with optional clamps and platform.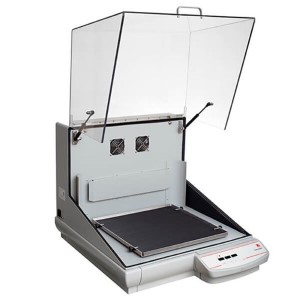 | | |
| --- | --- |
| Motion | Orbital, 25 mm |
| Capacity | 50 lb (22.7kg) @ 125 rpm, 10 lb (4.53kg) @ 500 rpm |
| Temperature Range | 15°C below Ambient – 65°C |
| Uniformity | ± 0.5°C at 37°C |
| Speed Range | 15 rpm – 500 rpm |
| Tray Size (LxW) | 18 in x 18 in (457 mm x 457 mm) |
| Calibration | Temperature calibration |
| Communication | RS232 |
| Control | Digital |
| Dimensions | 23.5 in x 32.1 in x 26.6 in (596 mm x 815 mm x 675 mm) (HxLxW) |
| Drive System | Triple Eccentric; Brushless DC Motor |
| Inner Dimensions (HxHxLxLxWxW) | 17 in x 432 mm x 20.6 in x 523 mm x 24.8 in x 629 mm |
| Net Weight | 290.41 lb (131.7 kg) |
| Power | 120V, 10A, 50/60Hz |
| Power Consumption | 800 W |
| Safety Certification | TUV |
| Speed Accuracy | Above 100rpm +/- 1%, Below 100rpm /- 1 rpm |
| Speed Range | 15 rpm – 500 rpm |
| Timer | 1 second – 160 hours |
| Tray Construction | Aluminum |
| Working Environment | 59°F – 90°F, 80%RH, non-condensing (15°C – 32°C, 80%RH, non-condensing) |