Powerful Magnetic Stirrers available in either four or nine position capacities provide precise speed control that deliver repeatable performance. Offered in both digital and non-digital models.
Applications
Dissolution Studies, Titrations, Media/Reagent Preparations, Synchronized Stirring of multiple samples
Display
Independent LED displays for speed and time (on digital models); Knob with 1-10 dial markings (on non-digital models)
Operation
N/A
Communication
N/A
Construction
Cast aluminum housing, glass filled nylon top plate. Includes stir bars to accommodate each stirring position
Design Features
Speed ramping feature slowly increases motor speed for enhanced coupling & improved stirring. Microprocessor-controlled for precise speed regulation. Timer counts up or when programmed to a set time will turn off stirring & sound alarm when timer reaches zero.
The 318 x 279 mm top plate accommodates up to 9 x 250 mL or 4 x 1 L flasks. The glass-filled nylon surface has a reflective white color, is chemical-resistant & minimizes unintended heating of samples.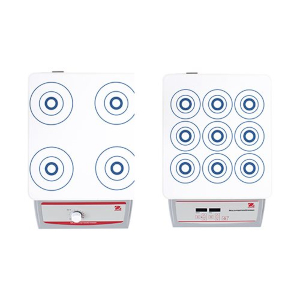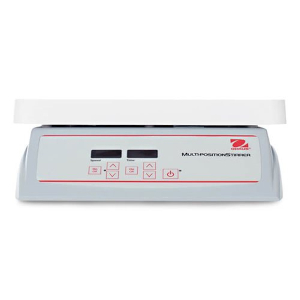 Speed ramping feature slowly increases the motor speed for improved safety and enhanced coupling. Avoids splashing, improves spin bar control and provides excellent low-end speed control.
Digital models have touchpad controls for input of speed & time. Non-digital models have an adjustment knob with dial markings from 1-10. The microprocessor regulates adjustments throughout the range.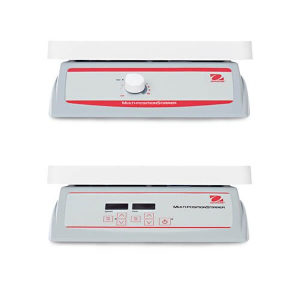 | | |
| --- | --- |
| Capacity | 4 x 1L |
| Control | Analog |
| Dimensions | 4 in x 17 in x 11 in (970 mm x 432 mm x 279 mm) (HxLxW) |
| Net Weight | 14 lb (6.3 kg) |
| Plate Construction | Glass Filled Nylon |
| Plate Size | 12.5 in x 11 in (318 mm x 279 mm) |
| Power | 120V, 1.3A, 50/60Hz |
| Power Consumption | 75 W |
| Safety Certification | UL;  cUL |
| Speed Range | 60 rpm to 1400 rpm |
| Timer | 1 second – 160 hours |
| Working Environment | 41°F – 104°F, 80%RH, non-condensing (5°C – 40°C, 80%RH, non-condensing) |