After more than a century of perfecting the art of measurement through our durable weighing products, OHAUS precision is now available in the form of a portable dissolved oxygen (DO) meter. This portable meter offers convenience, reliability and durability in one compact design.
Applications
Dissolved oxygen (DO) measurement
Display
Liquid crystal display (LCD)
Operation
4 AAA batteries (included)
Communication
N/A
Construction
ABS housing, wrist strap
Design Features
30 measurement memory
The galvanic electrode can be used immediately after being powered on without the typical wait time associated with dissolved oxygen meters.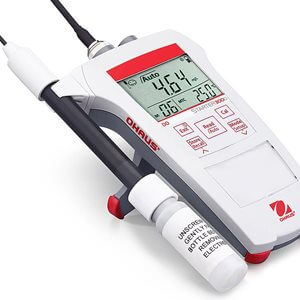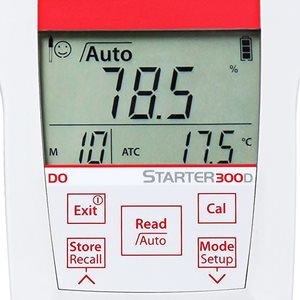 Easy-to-use and accurate with a simple calibration process, automatic temperature compensation and fast results.
The 30-measurement library stores data for future reference and allows the user to easily recall the last calibration data with one quick touch.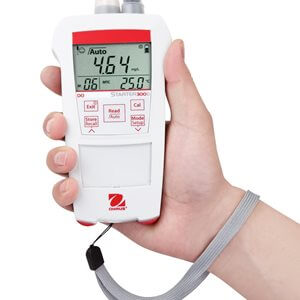 | | |
| --- | --- |
| Measurement Range | 0.00 – 19.99; 20.0 – 45.0 mg/L; 200 – 400%; 0 – 50 °C |
| Accuracy | ± 0.3 mg/L; ± 1%; ±0.3 °C |
| Measurement Resolution | 0.1 mg/L; 1 mg/L; 0.1%; 1%; 0.1 °C; 0.1 ppm; 1 ppm |
| Display | LCD |
| Electrode | STDO11 (Included with ST300D / ST300D-G); STTEMP30 (Included with ST300D / ST300D-G) |
| Accuracy DO | 1 % |
| Accuracy ± (Temperature) | 0.3 °C |
| Battery Life | 250 Hours with Disposable Batteries |
| Calibration | 2 Point |
| Dimensions | 1.38 in x 6.69 in x 3.54 in (35 mm x 170 mm x 90 mm) (HxLxW) |
| In-use cover | No |
| Measurement Range DO | 0 % – 200 % ; 200 % – 400 % ; 0 ppm – 20 ppm ; 20 ppm – 45 ppm |
| Measurement Range (Temperature) | 0 °C – 50 °C |
| Net Weight | 0.35 lb (0.16 kg) |
| Parameter | Dissolved Oxygen |
| Power | 4 AAA (LR03) Batteries (Included) |
| Resolution (DO) | 0.01; 0.1 |
| Resolution Range (DO) | 0.01 – 0.1 |
| Temperature Compensation | Automatic |
| Temperature Resolution | 0.1 °C |
| Temperature Sensor | 30 KΩ NTC |
| Working Environment | 41°F – 104°F, 80%RH, non-condensing (5°C – 40°C, 80%RH, non-condensing) |