After more than a century of perfecting the art of measurement through our durable weighing products, OHAUS precision is now available in a line of benchtop pH meters. Starter 2100 is the economical choice for applications requiring simple pH measurement.
Applications
pH, oxidation-reduction potential (ORP) measurement
Display
Liquid crystal display (LCD)
Operation
AC adapter (included)
Communication
N/A
Construction
ABS housing, built-in electrode holder
Design Features
Auto buffer recognition, two point calibration, quick reference guide
With the attached quick guide, five clearly marked keys and user friendly software, novices can operate the meter with minimal training.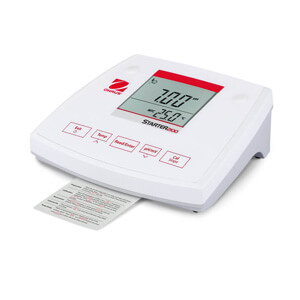 The built-in electrode holder provides straightforward and convenient all-in-one operation, while the large LCD display screen clearly displays results.
Accurate results are ensured by key features like auto buffer recognition, electrode condition indicator, automatic temperature compensation and reference input.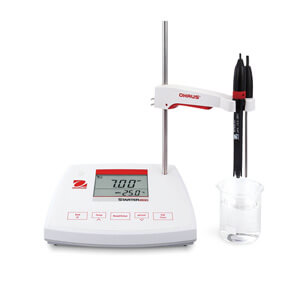 Measurement Range

0.00 – 14.00 pH; -1999 – 1999 mV; 0 – 100 °C

Accuracy

±0.01 pH; ±1 mV; ±0.5 °C

Measurement Resolution

0.01 pH; 1 mV; 0.1 °C

Display

LCD

Electrode

ST210 (Included with ST2100-E and ST2100-F)
STTEMP30 (Included with ST2100-F)

Accuracy ± (mV)

1 mV

Accuracy ± (Temperature)

0.5 °C

Battery Life

Not Applicable

Calibration

2 Point

Dimensions

3.07 in x 8.66 in x 6.89 in (78 mm x 220 mm x 175 mm) (HxLxW)

In-use cover

No

Measurement Range (Temperature)

0 °C – 100 °C

Measurement Range

-1,999 mV – 1,999 mV

Net Weight

1.65 lb (0.75 kg)

Parameter

pH / ORP

pH accuracy (±)

0.01

pH measuring range

0 – 14

pH resolution

0.01

Power

AC Adapter (Included)

Resolution (Voltage)

1 mV

Temperature Compensation

Yes

Temperature Resolution

0.1 °C

Temperature Sensor

30 KΩ NTC

Working Environment

41°F – 104°F, 80%RH, non-condensing
(5°C – 40°C, 80%RH, non-condensing)