Vapor Pressure Testing at its Best
With unmatched precision, speed and versatility ERAVAP is the instrument of choice for vapor pressure testing of e.g. gasoline, crude oil, LPG, solvents, fragrances or aqueous solutions in full compliance with the latest international standards. With eralytics latest invention, the ultra-light temperature-controlled U-tube density meter module DENS4052 (patent pending), ERAVAP offers even more: simultaneous measurement of vapor pressure and density in a single, portable analyzer.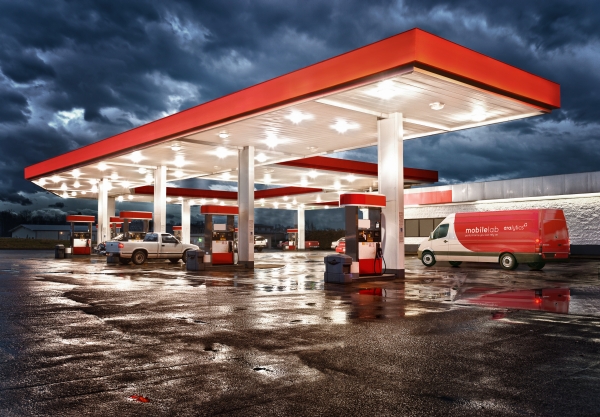 Unmatched Performance
ERAVAP is a compact, highly precise, yet easy to use vapor pressure tester. It is known for vapor pressure testing with unmatched precision, speed and versatility over the widest available temperature range from -20°C to 120°C (4°F to 248°F) on the market. A small footprint and the true portability even with an attached 10-position autosampler make it the ideal choice for stationary and mobile laboratories. The California Air Resource Board (CARB) relies on the unrivaled precision of ERAVAP as well as the U.S. EPA who uses ERAVAP as their reference instrument for vapor pressure testing. Additionally ERAVAP is field proven by the US Army with close to 100 installations in their mobile laboratories around the world.
2-in-1: Simultaneous Measurement of VAPOR PRESSURE + DENSITY with a Single, Portable Analyzer
The latest ground-breaking innovation for ERAVAP is the optional combination with eralytics' new temperature-controlled U-tube density meter module DENS4052. This integrated ultra-light density meter module (patent pending) offers density measurements in full compliance with ASTM D4052 & ISO 12185 (r = 0.0001 g/cm3).
ERAVAP is now the only vapor pressure tester on the market which allows for simultaneous measurements of two parameters listed in international fuel specifications like ASTM D4814 and EN 228 in a single analyzer, namely the vapor pressure of gasoline according to ASTM D5191 and the density of gasoline, diesel or jet fuel according to ASTM D4052. Its portable and rugged design makes ERAVAP the perfect solution for mobile laboratories, terminals, and field use.
New: TVS™ - Temperature Verification Sensor for ASTM D5191 Testing
One more great feature for ERAVAP is the TVS™ – ASTM D5191 Temperature Verification Sensor (patent pending) for high precision vapor pressure testing of gasoline. This all-new temperature sensor allows easiest monitoring of the temperature directly in the sample container, featuring an immediate check of the sample preparation even before the actual measurement starts. TVS™ enables the specification of upper (and lower) temperature limits triggering an automatic warning, if the sample temperature does not match the requirements. Thus TVS™ is a very efficient tool helping you to save time and money while improving the quality control in your testing lab.
Superior Repeatability
Recent improvements in the design of ERAVAP led to an improved repeatability and reproducibility for vapor pressure testing. With a repeatability of only r ≤ 0.15 kPa and a reproducibility of R ≤ 0.50 kPa for ASTM D5191 and D6378 reference materials at 37.8°C (100°F) it clearly outperforms the precision statements of its own ASTM standards. Using ASTM D6378 instead of D5191 for vapor pressure testing additionally eliminates any operator bias caused by incorrect sample preparation needed only for ASTM D5191.
Please reference the graph for latest repeatability measurements of the latest ERAVAP generation using cyclopentane and pentane at 37.8°C (100°F).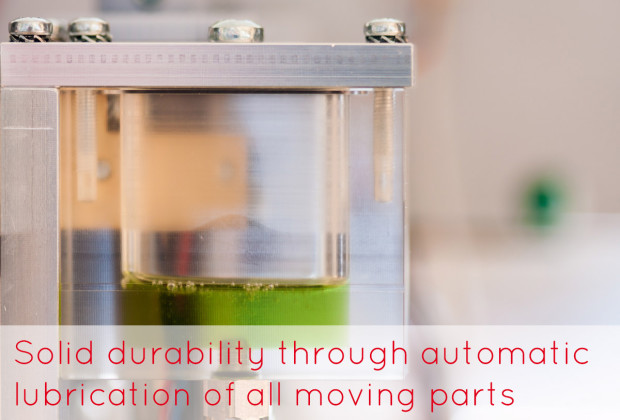 Outstanding Design
With its quality-centric design ERAVAP was not only designed for highest precision but also for highest durability. The self-lubricating piston and the powerful Peltier elements are the instrument's centerpiece. It is built for highest sample throughput rates at minimum maintenance. Furthermore, recalibration of the instrument can be performed without any special tools or disassembling the unit.
Eralytics' patent pending Pure SamplingTM technology minimizes the possiblity of cross contamination between measurements.
Range of Applications
The area of applications ranges from freely programmable test methods for R&D labs to push-button simplicity. With its extended temperature range from -20°C to 120°C (4°F to 248°F) and V/L ratios ranging from 0.02/1 to 100/1 it can cope with the most difficult measurement scenarios as well as with routine analysis. Vapor pressure testing of up to 1000 kPa is possible. In combination with a 12 V DC adapter it can be even run by a vehicle battery, allowing vapor pressure testing in the field.
With its innovative design ERAVAP is capable of measuring gasoline, oxygenated gasoline as well as any other solvent or even polymers. It is used worldwide by refineries, terminals, oil and pipeline companies as well as authorities and independent laboratories.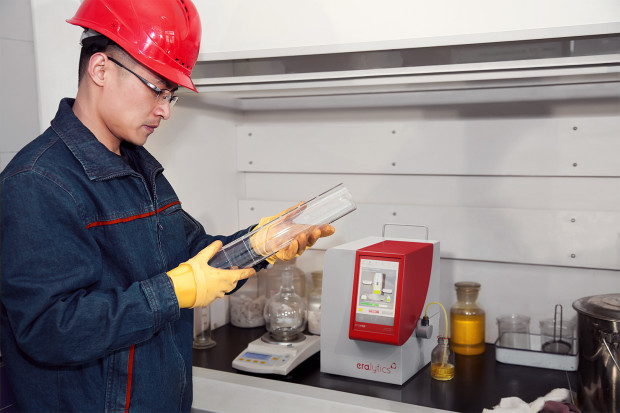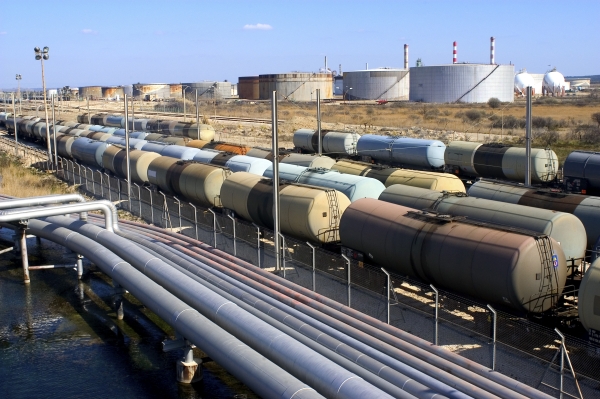 Crude Oil Vapor Pressure Testing
Vapor pressure of crude oil is a key parameter when planning the transportation of crudes through different climate zones. When performing crude oil vapor pressure measurements one has to bear the actual ambient conditions during transportation in mind. Is the crude transported in rail cars the headspace is approximately 5% where as a floating roof-top tank has nearly no headspace at all. This is important since the vapor to liquid ratio (V/L) and the storage temperature are highly influencing the vapor pressure of crude. This is especially true for live crude oil which still contains high amounts of volatile light ends.
V/L and Temperature Influences
The graph on the side shows the influence of the V/L ratio and the temperature on crude oil vapor pressure testing.
Measuring at the standard conditions of V/L = 4 and T = 37.8°C the vapor pressure of the sample crude was approximately 40 kPa. At a V/L ratio of 0.02 found in rail cars, trucks or ships already gives a vapor pressure of around 100 kPa. Assuming that this storage tank stands in bright sunlight heating its content to a temperature of 60°C the vapor pressure rises even further to 120 kPa.
The more light ends the transported crude contains the higher these effects will get. This highlights the importance to measure the crude's vapor pressure under realistic conditions.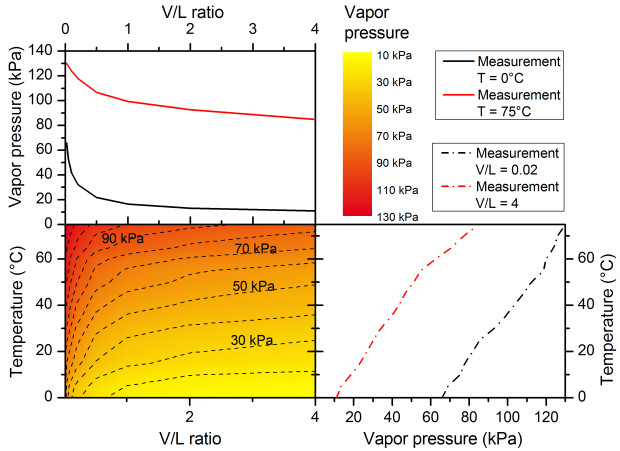 Crude Oil Configuration
Measuring live crudes containing high amounts of volatiles requires the use of a pressurized sampling system, such as floating piston cylinders (FPC) or manual piston cylinders (MPC). If such crudes are measured from an open bottle the resulting vapor pressure of this crude will be biased to the real vapor pressure since all volatiles will be lost. eralytics newly developed manual piston cylinder ERAVAP MPC (ASTM D8009) offers an even more comfortable and reliable application for this task. For an easy connection to the instrument, ERAVAP is equipped with a pressure-tight connection inlet for quick fit connectors including an integrated inlet filter. With its built-in high performance shaker motor ERAVAP measures in full compliance with ASTM D6377.
High Viscosity Module
ERAVAP already covers a wide range of applications with its standard configuration. However, if the viscosity of the samples increases it gets more difficult to draw them into the measurement cell. In such cases heating up the sample prior to introduction helps. During the measurement the sample sitting in the tubes will cool down potentially blocking them after the measurement.
ERAVAP Crude directly draws up the sample into the measurement chamber by a piston. Sample take-up of more viscous samples naturally takes longer time until a viscosity where it becomes impractical. Heating up the sample prior to the introduction reduces the viscosity and the filling procedure speeds up. However, during the measurement, the sample sitting in the inlet and outlet tubing will cool down which possibly leads to a blockage of one of the tubes. With the high viscosity module, the inlet, outlet, and all connecting tubes, as well as the inlet assembly, can be heated up to 70°C. This temperature is programmed from the measurement menu of the instrument and actively controls the temperature. This optional module makes ERAVAP the perfect analyzer for challenging samples such as fuel oil or heavy crudes without risking clogging of the equipment.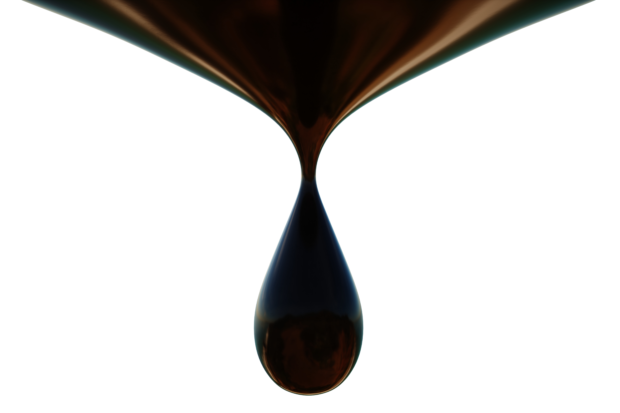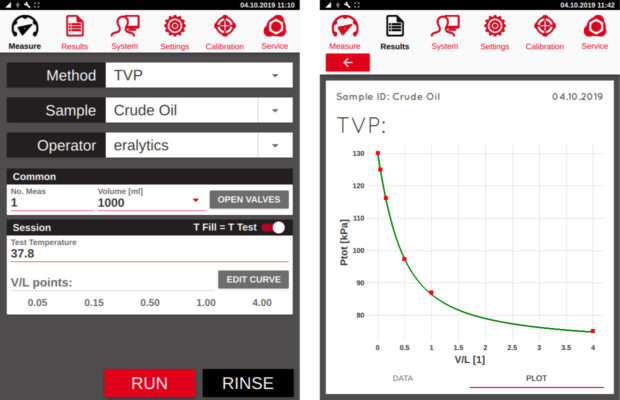 ASTM D6377 and CCQTA Recommendations
ASTM D6377 allows to use a wide range of different parameters for crude oil vapor pressure testing. Thus it can be tailored to fit the parameters for most conditions. Studies by the Canadian Crude Quality Technical Association (CCQTA), however, showed that the thermal expansion of the samples makes measurements at very low V/L ratios difficult. CCQTA prefers to analyze the V/L ratio curves at a specific temperature to judge the crude oil.
Eralytics' found a solution for the thermal expansion issue in ERAVAP crude and therefore can measure accurate crude oil vapor pressures at V/L = 0.02. Additionally, curve measurement programs at various V/L ratios are available, including the TVP method (True vapor pressure) which calculates the theoretical VPCR at V/L = 0. This makes ERAVAP crude the ideal choice for crude oil measurement applications.
Measurement Procedure
Beside sample preparation according to the relevant standards, just four easy steps are needed for high quality vapor pressure testing:
Enter sample ID and operator name
Select the measurement standard and add additional parameters when necessary
Place the sample beside the analyzer and put the tubing inside the sample
Press the RUN button
The instrument now visualizes the measurement procedure on the screen showing the sample and piston position, as well as the temperature and pressure within the measurement cell. The resulting vapor pressure is calculated according to the relevant standards and displayed.
Available Test Methods

ASTM D4052, D5188, D5191, D6299 (QC charts), D6377, D6378, D6897, EN13016-1, EN13016-2, EN13016-3, IP394, IP409, IP481, JIS K2258-2, SHT 0769, SHT 0794, SNT 2932, GOST 52340
Freely programmable methods
EPA / CARB / US Military & NATO reference methods
TVP measurement VP-V/L Speed Test™ – Combined T(V/L) and vapor pressure measurement

Correlation to...

ASTM D323, ASTM D1267, ASTM D2533, ASTM D4953, ASTM D5190, ASTM D5482, ASTM D2879 (optional low vapor pressure extension)

Fuel Specifications

ASTM D910, ASTM D1655, ASTM D1835, ASTM D4814, ASTM D6227; EN 228

Temperature Range

0°C to 120°C (32°F to 248°F) with Peltier technology. No external cooling is required.
-20°C to 120°C (-4°F to 248°F) with additional low temperature upgrade (EV01-COOL). External cooling is required.
Extrapolated range: -100 to 300°C (-148°F to 572°F)

Temperature Stability

0.01°C (0.02°F)

Density Meter

Temperature-controlled U-tube density meter (0-3 g/cm3):

High precision density module (r = 0.0001 g/cm3; ASTM D4052)

Pressure Range

0 kPa to 1,000 kPa (0 psi to 145 psi)

Pressure Units (selectable)

hPa, kPa, psi, mmHg, Torr, at, atm

Pressure Resolution

0.01 kPa (0.0014 psi)

Vapor / Liquid Ratio

Variable from 0.02/1 to 100/1 (Method dependent)

Precision

Repeatability: r ≤ 0.15 kPa (0.022 psi) / Cyclopentane @ 37.8°C
Reproducibility: R ≤ 0.50 kPa (0.073 psi)

QC Mode

Built-in quality control mode including on-screen QC charts (ASTM D6299)

Available Extension Modules

EV01-COOL: Low temperature module (-20°C - 120°C / -4°F - 248°F)
EV01-VISC: High viscosity module (Heated inlet and outlet up to 70°C / 158°F)
EV01-VPL: Low vapor pressure module (r = 0.1 kPa; pressure resolution = 0.01 kPa)

Sample Introduction

Automated via built-in piston
Automated sample filtration through a reuseable 80 µm mesh filter
No external vacuum pump is required

Sample Volume

1 mL (2.2 mL per rinsing cycle)

Measurement Time

5 minutes for a standard measurement

Cleaning

By next sample or solvent

Measuring Chamber

Nickel-plated aluminum chamber

Display

Industry proven multilingual 8.4" color touchscreen

Languages

English, German, French, Spanish, Russian, Chinese
Additional langages available upon request

Interfaces

Built-in PC with Ethernet, USB and RS232 interfaces
Wifi via external USB dongle
Direct LIMS connectivity via LAN, output to printer or PC as CSV or PDF
Optional input by external keyboard, mouse and barcode reader

Remote Control

Remote service capability via Ethernet interface

PC Software

ERASOFT RCS - remote control Windows® software for multi-instrument remote control, convenient data transfer, viewing spectra and result analysis

Result Database

Over 100,000 detailed test reports stored in internal memory
DVPE, RVPE, PABS, PGAS, PTOT, ASVP & AVP
Results can be marked for hazy appearance
Graphical view of curve measurements

Alarm Tracking

All alarm messages are stored in the database together with the result

Automated Calibration Routine

10-point probe offset correction table, calibration history tracking, substance calibration

Auto Sampler

Optional 10-position autosampler – directly attached

Operating Conditions

Temperature range 0°C to 50°C
Humidity up to 90% RH, non condensing

Power Requirements

Auto-switching 85-264 V AC, 47-63 Hz, max. 150 W (multi-voltage power supply)
Field application: 12 V DC (vehicle battery) adapter available

Dimensions / Weight

29 x 35 x 34 cm (11.4 x 13.8 x 13.4 in) / 9.7 kg (21.4 lb)